Many Filipinos look forward to and wish that they can go and work for the Philippine Air Force (PAF) because they think that it's all about flying and action. Many people have the misconception that once you become a part of the PAF, you'll always be training, fighting; that you'll always be on-the-go. However, they fail to think about other important positions and vacancies in the force.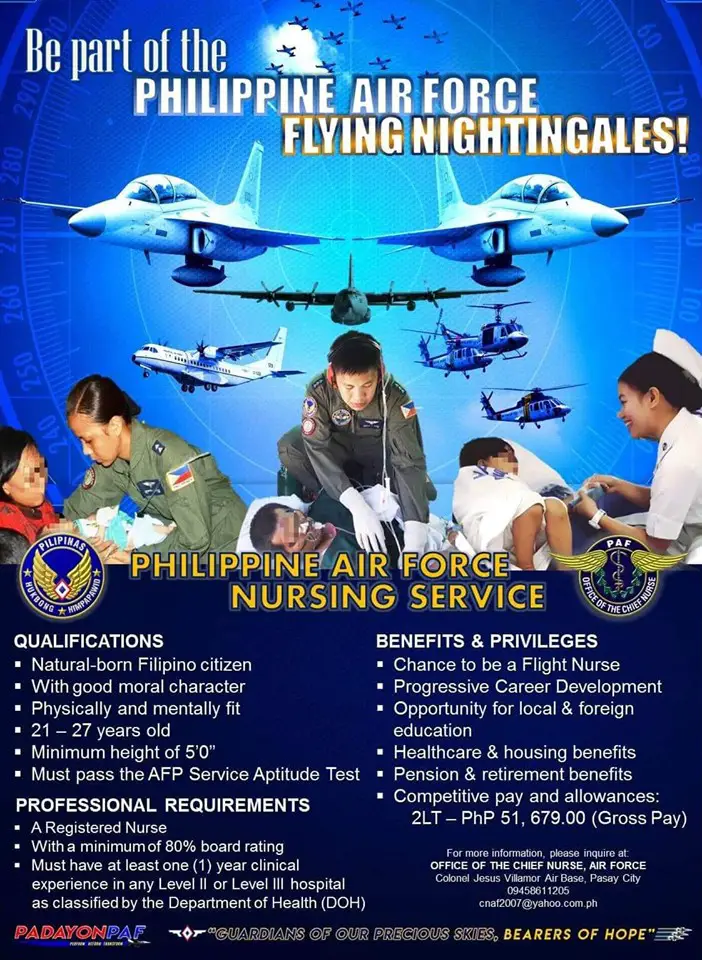 By the same token, the PAF is currently hiring nurses to be a part of their troops. These nurses will be tasked and expected to duly attend to the sick and the needy. In this article, we will be discussing what the requirements are, what qualifications the PAF is looking for, and how interested applicants can apply!
Read: Bureau of Corrections (BuCOR) Hiring: They're Looking for Corrections Officer I and Corrections Technical Officer I
The PAF Nursing Service
Registered Nurses (RNs) who look to be a part of the Philippine Air Force is welcome and duly invited to apply to be a part of the PAF Nursing Service. Being a part of the PAF is a great opportunity to service our country well and to provide expertise in the medical field in treating the troops of the PAF.
Qualifications
Just like any other job post, all interested to-be PAF Nurses are expected to meet and to have the following qualifications:
Must be a natural-born Filipino citizen;
Should be both physically and mentally fit;
Age should be within 21 to 27 years old;
Must meet the standards and criteria for good moral character;
Should pass the Armed Forces of the Philippines (AFP) service aptitude test; and
Must have a minimum height of 5'0″
Read: The Department of the Interior and Local Government (DILG) Central Office is Looking For an Action Officer and a Project Development Officer II
Prior to sending documentary requirements, you must first ensure that all of these qualifications are met. The PAF is hiring nurses and they must be taken under strict compliance with the qualifications.
Documentary and professional requirements
If you have passed the qualifications, it's time for you to move up to the professional and documentary requirements that the PAF is looking for. All interested applicants must:
Read: The GSIS Educational Subsidy to Selected 10,000 Students – Qualifications and Requirements
Be a Registered Nurse (RN) by profession;
Have at least one (1) year of clinical experience in any Level II or Level III hospitals as classified by the Department of Health (DOH); and
Have a minimum of 80 percent in the board rating.
Those are what interested applicants have to attain in order for them to be able to apply. Incomplete qualifications and professional requirement-applications would not be entertained.
What benefits and privileges are given?
Other than the fact that you will be working serving the country, as PAF is hiring nurses, all applicants who shall pass the application will be given a monthly compensation of P51,679.00 gross pay.
Read: Nurses in the Government Should Not be Paid Less Than 30K a Month – SC
Not just that, successful applicants will also:
Have a chance for progressive career development;
Have the chance to be a Flight Nurse via the PAF Nursing Service;
Be given healthcare, housing, and government benefits;
Get the opportunity to study more and learn about their field either here (local) or abroad (international); and
Be given retirement benefits and pension for working in the public sector
Read: The Ospital ng Makati (OsMak) is Hiring 41 Nurses
The Philippine Air Force (PAF) posted this announcement on their Facebook page back on the 22nd of October, 2019. They made no mention of how interested applicants can apply; no email address to where they can send their documents and requirements to.
However, in the announcement photo, they said that all interested applicants can inquire in the official office of the PAF which is in:
OFFICE OF THE CHIEF NURSE, AIR FORCE
Colonel Jesus Villamor
Air Base, Pasay City
Read: The Bureau of Customs (BOC) is Hiring 200 Permanent Positions Nationwide
Contact numbers
Also in the said photo is a mobile number that interested applicants can call and text, should they have inquiries at 09458611205. Alternatively, the PAF gave an email address which can also be used to send inquiries to at [email protected].
Have you been looking forward to working with any type of special service of our government? Did you ever consider working for the Philippine Air Force (PAF)? If so, then the PAF is hiring nurses with a starting monthly salary of P51,679.00! They offer a handsome salary with flexible and governmental benefits! How can your job be better?
What are you waiting for? If you meet all the qualifications, and if you have all the documentary and professional requirements, then what's stopping you? Take part in servicing the troops of the Philippine Air Force by keeping them safe and healthy!
Source: Facebook Page of the Philippine Air Force (PAF)