The Bureau of Corrections (BuCOR) is a government agency, a strand of the Department of Justice (DOJ) tasked to ensure the safety and custody of national offenders' rehabilitation. These people are the offenders who have been sentenced to three (3) years of imprisonment or more.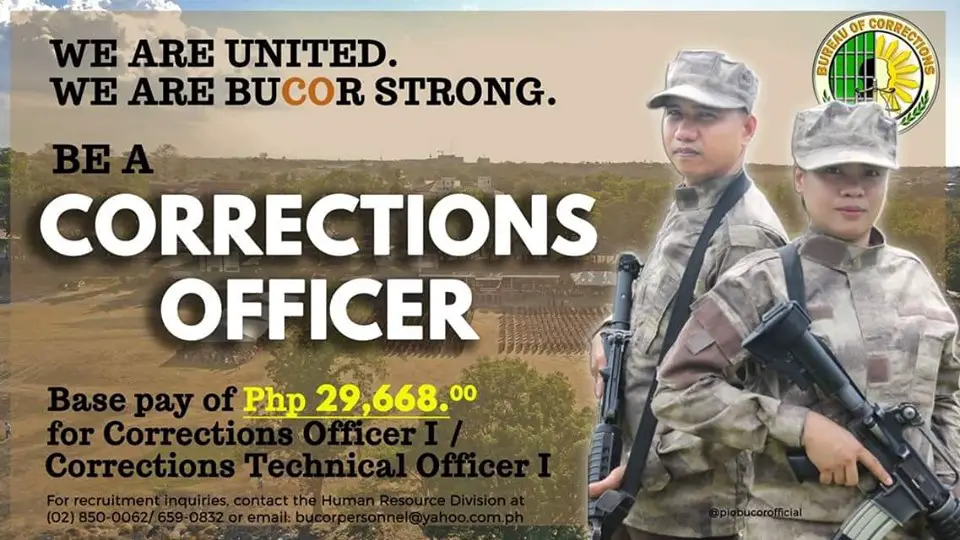 Their main goal is to pursue their responsibility in securing and transforming national prisoners through responsive and effective rehabilitation programs; done by professional and authorized correctional officers. 
Read: Ospital ng Makati (OsMak) is Hiring 41 Nurses
Where are their headquarters?
Their headquarters has been in the New Bilibid Prison Reservation in Muntinlupa City. This has been their official headquarters ever since.
The BuCOR is currently looking for Corrections Officer I and Corrections Technical Officer I, with a base monthly pay of P29,668.00. Should you be interested in applying for the said post, we got you.
Read: Around 2 Million Jobs to be Offered by Cebu City
Just like any other job post, there are certain requirements and qualifications people need to meet in order for them to be fit to apply in being a Corrections Officer or a Corrections Technical Officer for the Corrections Bureau.
Salary and benefits of Corrections Officer I and Corrections Technical Officer I
Let's get to the real deal because admit it or not, your interest in working as a part of the BuCOR team is not just for you to serve the country; it's also because of the lucrative pay and flexible benefits the government offers.
Read: Free E-Visa to Russia For Filipinos, Granted to Filipino Workers Starting October 1, 2019
Being either a Corrections Officer I or a Corrections Technical Officer I, you are entitled to receive a basic salary of P29,668.00. Furthermore, since you are working for the government, you will be getting longevity pay and other extra allowances.
Initial Qualifications
Before we get to what documentary requirements are needed, all interested individuals must first meet these qualifications for them to become a part of the Corrections Bureau.
Failure to meet these qualifications would lead to the declination of the application.
Read: Total of 10,000 Police Officers Needed Nationwide – NAPOLCOM
Must be a Filipino citizen;
Graduate of any baccalaureate degree;
Must be of Good Moral Character;
Must not have been convicted of any case by final judgement or crime involving moral turpitude;
Should be both physically and mentally fit;
Shouldn't have been dismissed from military employment dishonorably or dismissed for cause from any civilian post in the Philippine government;
Age should be not younger than 21 years old but not older than 40 years old;
Height requirement

Male – 5'4″
Female – 5'2″

Must have any of the following eligibilities:

Republic Act (R.A.) 1080 (Bar or Board Examination)
Presidential Decree (P.D.) No. 907 (College Latin honors)
Passer of the Civil Service Exam (CSE) of Professional Level or 2nd level eligibility

Should pass the following assessments:

Interview
Qualifying Exam
Physical Test
Agility Test
Neuro-Psychiatric Exam
Medical Exam
Dental Exam
Read: The Bureau of Customs (BoC) is Hiring 200 Permanent Positions Nationwide
NOTE: There is a height waiver for applicants who belong to a cultural minority. So before feeling bad about it, do know that there are height and age waivers.
Height and Age waivers
As we have mentioned, there are height and age waivers that are granted to applicants. To explain further, should an individual not meet the minimum requirement for height (5'4″ for male; and 5'2″ for female), they can be granted a height and age waiver should they be deemed to possess special qualifications, skills, and exemplary aptitude.
Height of the male must be at least 5'2″ and height of the female must be at least 5'0″.
Read: 1,000 Jobs For Filipinos, to be Opened by Israel
In order to be granted a waiver, an applicant must have any of the following:
Awards and commendations;
Extensive and rigorous experience and training in legal, medical and technical services and/or in Forensic Science;
Must have good family background in law enforcement or socio-civic activities;
Must have outstanding and exemplary academic records and extracurricular activities;
Special skills in the fields of intelligence information and investigation;
Talent in arts, music, sports, and culture; and
Must be a recognized social standing in the community
As per Rule No. 11 of RA No. 10575 otherwise known as "The Bureau of Corrections Act of 2013," the height requirements for the initial appointment may be waived only when the number of qualified applicants fall below the minimum quota. More so, applicants who belong to cultural communities must submit proofs of their membership in a particular cultural minority as certified by the National Commission on Indigenous Peoples (NCIP) or the National Commission on Muslim Filipinos (NCMF).
Documentary requirements
Are you feeling good about the qualifications? Do you think that by looking at these eligibility requirements, you would fit in the hiring of Corrections Officer I and/or Corrections Technical Officer I? If so, then here are the documentary requirements all interested applicants need to submit:
Read: 2,000 More Jobs in Yukon, Canada For Filipinos, Announced by DOLE
Letter of Intent stating the position they want to apply to;
Three (3) copies of the authenticated Certificate of Eligibility and its Official Receipt (OR);
Ten (10) copies of the duly-accomplished Personal Data Sheet (PDS) (CSC Form 212 Revised 2017);

Three (3) original copies
Seven (7) photocopies (notarized)

Authenticated Transcript of Records (ToR)
National Bureau of Investigation (NBI) Clearance
Police Clearance
Photocopy of the PSA-Certified Birth Certificate
Certification from the School/CHED (authenticated)
Drug Test from a government hospital

ECG (photocopy)
HEPA Screening
Must be all enclosed and grouped in a white folder for easier navigation and for officials to locate the documents easier.
How can interested applicants apply?
Now, are you becoming more and more interested? We thought so, well, if you qualify for the required qualifications and eligibility, and you have all necessary documents for submission, and you just have to know where you can apply, you can submit it in any of these locations:
Read: Japan Will Now Start to Accept Filipino Language Teachers
National Headquarters of the Bureau of Corrections (BuCOR) in the New Bilibid Prison, Muntinlupa City
Davao Prison and Penal Farm, Panabom Davao del Norte
Iwahig Prison and Penal Farm, Puerto Princesa City, Palawan
Leyte Regional Prison, Abuyog, Southern Leyte
Sablayan Prison and Penal Farm, Sablayan, Occidental Mindoro
San Ramon Prison and Penal Farm, San Ramon, Zamboanga City
Just proceed to whichever headquarters is the nearest to your location; not need for you to travel to the New Bilibid Prison to apply, you can submit your application to its Regional Offices, too!
Can applicants submit it through email?
Unfortunately, no. The BuCOR is not allowing electronic applications as of this moment. This is why all interested applicants must submit it personally because submission of it via email would not be considered. Even if you shoot an email to their recruitment team/department, your application would not be entertained if it's not a personal application.
For questions and inquiries, you can contact the Human Resources Division by dialing (02) 850-0062 or 659-0832. Alternatively, you can email them at [email protected].
Read: Classic Savory is Hiring in Manila, Rizal, Quezon City and More!
Are you interested in being a part of the Corrections of Bureau? Have you ever dreamed of working for the government to service your country? You won't just get a chance to serve the country's detainees and help them obtain a better future, you'll also be subject to the different activities, programs, and incentives of the Philippine government.
Source: Bureau of Corrections Facebook Page