Information Technology (I.T.), since the boom of technology, has been one of the most in-demand courses and programs students had a chance to get. The reason for this is how the world moved as well—slowly, our planet tends to cling onto the technological side of things.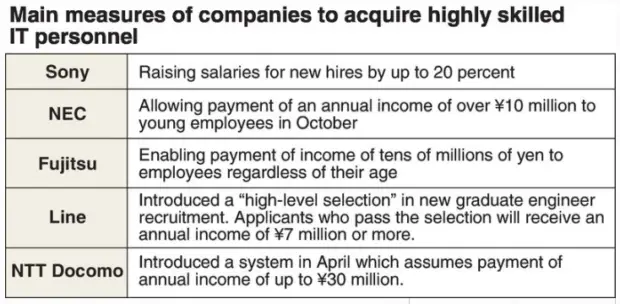 In Japan, Tokyo specifically, various companies are competing to get talents with high professional knowledge and sufficient skill in technology, both hardware, and software.
Read: PDEA is Now Hiring: They Are Looking For Drug Enforcement Officers
Tech companies who are currently looking for these talents are: NEC (originally Nippon Electric Company), SONY, NTT Docomo, Fujitsu Ltd., and Line.
Japanese companies are looking for highly-skilled I.T. talents
All over the world, people who are knowledgeable in the technology field always gets the big fish. In our time now, Japan, who is known to be one of the most advanced countries in the world, yearns to hire people who will be more of an advantage to them.
Fujitsu Ltd., last August 8th, said that they are going to introduce a brand new personnel and employee system that would allow the depository or the payment of salaries of tens of millions of yen to their employees, no matter what their age is.
Read: DSWD is Currently Hiring and You Can Apply Now!
Takahito Tokito, President of Fujitsu, said that they will be establishing income for employees who have a high set of digital skills in fields like security and artificial intelligence (A.I.).
We will set income for employees having digital skills mainly in such fields as artificial intelligence and security according to their professional levels and market value."
According to the company, they are currently in the process of revisiting their recruitment system where new graduates are to be hired in mass once (1) every year.
Read: 4,500 Jobs, Offered to Senior High School Graduates
They said that they look to complete and implement the new personnel system before the end of 2019. In addition to that, he said that some employees could receive a yearly income of ¥30 million up to ¥40 million.
Although he said that they have ended applications for employment because students who are currently abroad and want a slot in the company might not meet the August deadline. 
Other Japanese companies' high pay for I.T. talents
Fujitsu Ltd. is not the only company who is willing to pay millions of yen to technologically-inclined workers who can compete and represent their company. NTT Docomo Inc., back in April, began a recruitment system to be able to compensate up to ¥30 million to its employees.
Since the start of this year, Sony Corporation increased the wages of its employees who have groundbreaking skills in selected areas for up to twenty (20) percent.
Read: K12 Pinoy Graduates Are Qualified to Apply as Cabin Crew or a Flight Attendant
NEC Corp., on the other hand, will be joining the trend as they held an announcement to increase the additional annual income of over ¥10 million yen starting in October. This new system, as per the conglomerate, is also going to count on new hires if they were able to achieve excellent and cutting-edge research results in an academic standpoint.
Just like how I.T. giants are doing to secure their spot to be on the top, different Japanese companies are on the move to acquire highly-skilled people, specifically, I.T. talents, who can lead the business that is positioned as the growth area.
Western salary for I.T. talents
In the United States of America (U.S.A), it is in the trend for these type of I.T. talents who are in these levels to receive and earn an income of over ¥100 million.
Read: Deloitte Will Hire About 1,000 Employees in the Philippines Within the Next 5 Years
China's Huawei, however, according to reporters, are willing to pay up to about 2 million Yuan (¥30 million per year) even to new hires in 2019 so long as they can provide sufficient and reliable researchers and results to the company.
Are you an I.T. talent who is looking for a job abroad? These Japanese companies might be of big help to you; in fact, you might just be what they are looking for.
Read: The Highest-Paying Jobs for Fresh Grads in the Philippines This Year
You can check each of the company's website to learn more about their new systems.
Source: The Japan News