Welcome to the Job Fairs opportunity in the Philippines! Mark your calendars now! These events are a great opportunity for job seekers to connect with potential employers and explore career paths that align with their skills and interests.
The Philippines has a growing economy and a thriving job market, with opportunities in various industries such as technology, finance, healthcare, and hospitality. With the recent shift towards remote work, job opportunities have become more accessible to individuals all over the country, regardless of their location.
At these Job Fair, you will have the chance to meet with a diverse range of employers who are seeking talented individuals to join their teams. From entry-level positions to management roles, there are opportunities available for individuals with different levels of experience and expertise.
We understand that job hunting can be a daunting task, especially during these challenging times. This is why we have brought together a variety of employers and resources to make the process easier for you. We encourage you to take advantage of this opportunity and explore the possibilities that lie ahead.
We wish you the best of luck in your job search and hope that you find these Job Fairs to be a valuable experience this 2023.
Time to update those resumes and head to these job fairs happening in the metro!
DOLE: LABOR DAY JOB FAIR
Date: May 1, 2023
Time: 8 a.m. to 3 p.m.
Location: SMX Convention Center, SM Malls, Robinsons Malls, and other regional sites
Entrance fee: Free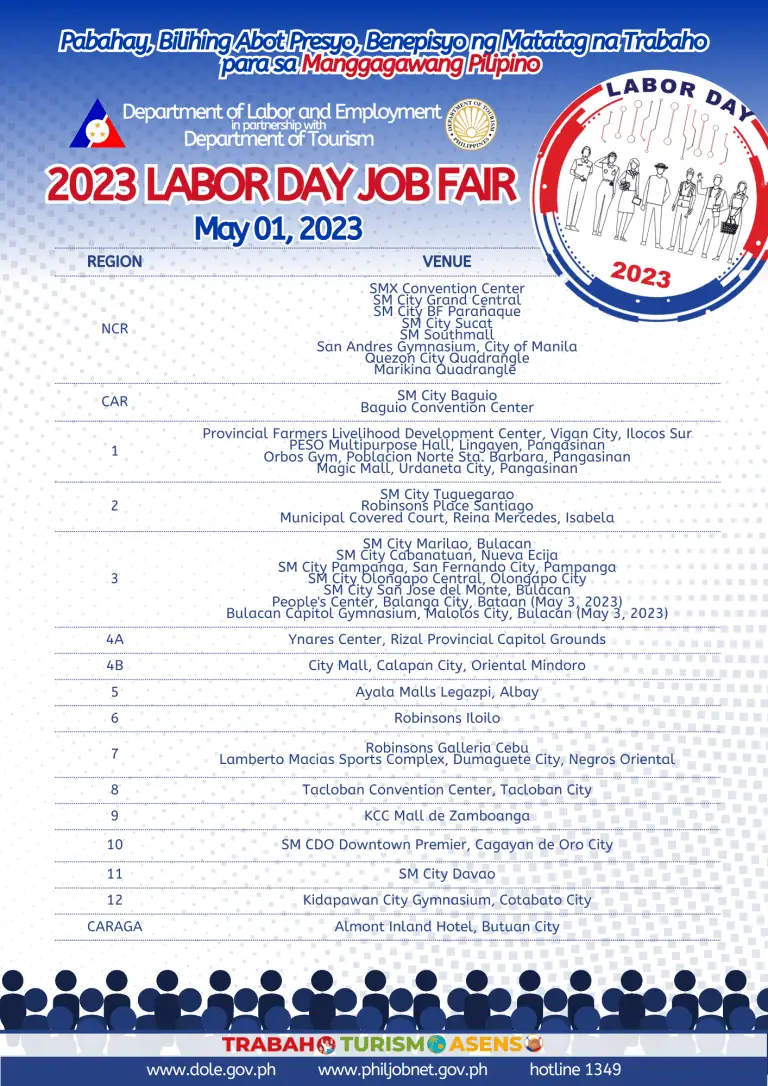 Up for any job fairs for 2023 in Metro Manila? Free up your Labor Day as the Department of Labor and Employment (DOLE) will hold its nationwide job fairs on May 1, 2023.
This May 1 job fair in 2023 will be conducted in multiple SM and Robinsons Malls and 16 regional sites in the Philippines. Proceed to the job fair sites in SMX Convention Center, SM City Grand Central, SM City BF Paranaque, SM City Sucat, SM Southmall, San Andres Gymnasium, and Marikina Quadrangle.
You can also check out the job fair in Quezon City in the Quezon City Quadrangle. Or if you're looking for a job fair in Davao, head to SM City Davao and check out the various jobs there.
The job expo in Manila is available to all jobseekers seeking opportunities in hospitality, retail, business process outsourcing, and more. Make sure to bring your job fair requirements, since you'll undergo initial interviews and might even acquire a job offer on the spot if you tick all the boxes.
This job fair by DOLE will also provide support to government personnel. In conjunction with these job fairs, DOLE will organize "Kadiwa ng Pangulo Para sa Manggagawa" in partnership with the Department of Agriculture (DA) and the Department of Trade and Industry (DTI) to enable employees acquire commodities at lower costs.
SAN MIGUEL JOB FAIR
Date: May 3, 2023
Time: 8:00 am to 3:00 pm
Location: Purefoods-Hormel Cavite Plant, BO De Fuego, General Trias, Cavite
Entrance fee: Free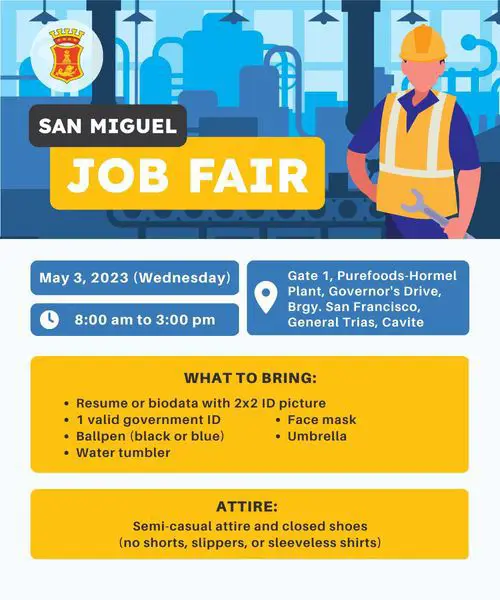 San Miguel Corporation will organize a one-day job fair on May 3, 2023, at its Purefoods-Hormel Plant in General Trias, Cavite. If you're looking for vacancies in sales, human resources, manufacturing, operations, logistics/supply chain, finance or audit, IT, and engineering, join this event and put in your application.
Bring a copy of your updated résumé with a 2×2 ID picture. Wear your semi-casual attire (no shorts, sleeveless shirts, and slippers), and bring your face mask.
BEAT THE HEAT: A SUMMER CAREER FAIR
Date: May 5, 2023
Location: 5F ENTEC 1 Building, Nepk Complex, Teresa Street, Angeles City
Entrance fee: Free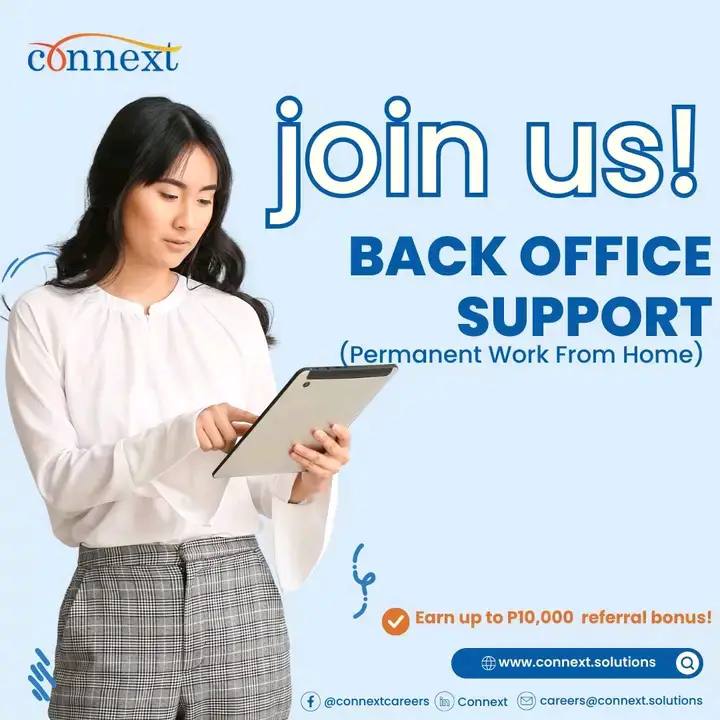 Organized by Connext Careers, jobseekers can attend the Connext Career Fair on May 5, 2023, at the Nepo Complex in Angeles City. Aside from applying to open job jobs, you can attend free lectures and participate in activities.
For an updated listing of career openings, you can check out the Connext Careers official Facebook page.
TRABAHO, TURISMO, ASESENSO JOB FAIR
Date: May 11, 2023
Location: Robinsons malls and other regional sites
Entrance fee: Free
Up for travel and tourism jobs?
The Department of Tourism (DOT) and the DOLE will organize the third leg of the "Trabaho, Turismo, Asenso" job fair on May 11, 2023. According to Tourism Secretary Christina Frasco, the objective of the job fair is to help the economy "recover from the lingering effects of the COVID-19 pandemic" and give the tourism workforce access to opportunities matching their skills.
Since DOT and DOLE started organizing these career fairs in the Philippines, a total of 16,485 employment opportunities have been presented to job seekers.
MAGNUS JOB FAIR
Dates:
May 25 & 26
June 22 & 23
July 27 & 28
August 24 & 24
September 21 & 22
October 26 & 27
November 16 & 17
Location: 3F Trade Hall, Starmall EDSA-Shaw
Entrance fee: Free
Another job fair you may check out till the end of the year is the Magnus Job Fair, which provides hundreds of job openings at some of the top firms in the Philippines. Apply directly, meet employers and recruiting officers, and even be hired.
Sign up as a new applicant at the Magnus Fair website for a more convenient job application.
The Magnus Job Fair will also be at WalterMart North EDSA on June 17, 2023, so check out the job postings if you're in the vicinity.
JOBQUEST JOB FAIRS
Dates: May 9-10, 11-14, and 23-24, 2023
Location: Ayala Malls Cloverleaf, SM City Bicutan, and online
Entrance fee: Free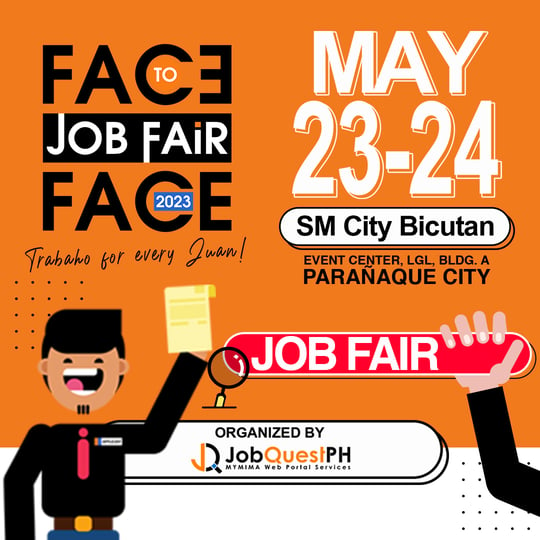 Want to attend job fairs online instead? You can do so with JobQuest's live and virtual job fairs in May. The online job fair will be conducted on May 11 to 14, 2023.
There will also be face-to-face job fairs on May 9 and 10 at Ayala Malls Cloverleaf in Quezon City and on May 23 and 24 at SM City Bicutan in Paranaque.
Visit the official website for additional information and to register online as a JobQuest applicant.
---
For all the job seekers out there, make sure to come prepared to a job fair with a polished resume, a list of targeted companies, and a clear understanding of their career goals. By taking advantage of the opportunities available at job fairs, you can increase the chances of finding your ideal job.