Have you been yearning to work for the civilian national police unit? Well, the Philippine National Police (PNP) made an announcement that they will be seeking 17,000 new recruits for the service.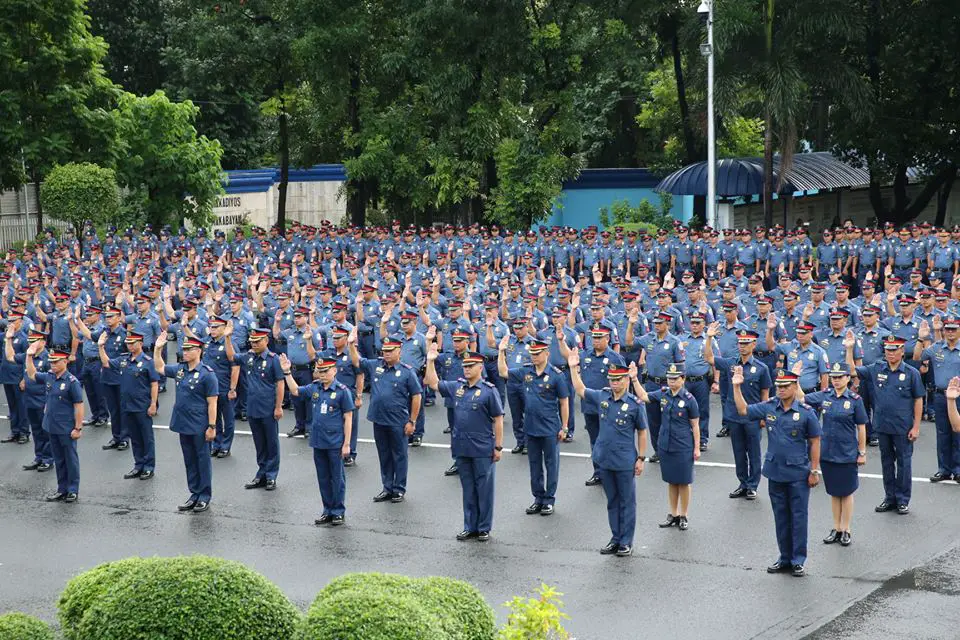 The yearly quota for the PNP's new recruits is 10,000 most of the time. However, acting PNP Chief Lt. Archie Gamboa said that the National Police Commission (NPC) and the Department of Budget and Management (DBM) have authorized PNP to add and enlist 7,000 additional recruits this year. There are high chances that the police-people ratio went down as is the reason for the said shocking announcement.
Read: The Schedule of the PNP ORAS Application Per Region in the Country
A little bit on police-people ratio under Republic Act (RA) No. 6975 also known as the Department of the Interior and Local Government Act of 1990, which sets the police-people ratio to one (1)  police officer for every 500 persons.
So what are the benefits of working with the PNP?
Let's talk about how much you would be making in terms of salary. All new recruits would have an entry-level rank of police patrol and their salary every month would be at P29,668. That being said, it's double the minimum gross salary of the lowest –ranked officers which is in accordance with the Joint Resolution No. 1 signed by our President Rodrigo Duterte on the 1st of January, 2018.
Read: Apply as a PNP Anti-Cybercrime Group (ACG)
Joint Resolution No. 1
A little bit on the background of the Joint Resolution, its aim in increasing the salary/base pay of military and uniformed personnel is to achieve economic realities and create professionalism, exemplary performance and commitment to service and to be able to give more reason for people to serve the country.
On top of their salary, all new recruits will also receive P2,000 in monthly Personnel Economic Relief Allowance or known as PERA; P4,500 in monthly subsistence allowance. In addition to that, they will also get bonuses mid-year and in the end of the year as well equal to a month's pay, and a cash gift given out yearly amounting to P5,000.
Read: 2020 Philippine National Police (PNP) Salary, Benefits, and Many More! 
There are other annual allowances aside from these such as a P5,000 Productivity Enhancement Incentive (PEI); clothing allowance worth P2,400; laundry allowance worth P360 and a hazard pay worth P6,480.
Qualifications
You might be interested on the announcement made, don't worry, we'll also give you the qualifications needed if you are interested in taking the job. Should you be interested, you need to make sure that you meet the following desired qualifications by the PNP:
Must be a citizen of the Philippines
Must be at least twenty-one (21) years old but not older than thirty (30) years old
Height Requirement:

Male – 1.62m
Female – 1.57m

Must not weight more or less than five (5) kg from the standard weight in acordance to the height/age/sex/weight
Should pass the following tests that would be conducted by the PNP:

Drug Test
Psychological Test
Psychiatric Test

Must be a person of good moral character
Must have a formal baccalaureate degree from a learning institution that is recognized
Should have obtained any of the following eligibility requirements:

Republic Act (RA) 1080 or the Bar and Board Examinations
PNP Entrance Exam (NAPOLCOM)
Presidential Decree (PD) 907 or the CS eligibility to College Honor Graduates

Must not have been convicted of a crime or offense involving moral turpitude by final judgement
Must not have been dismissed for cause from any civilian position in the government or have been dishonorably discharged from military employment
Those are the qualifications needed. If you know that you have what it takes, then answer their call now!
Read: The Civil Service Commission CSC 2020 Examination Calendar
Join and answer the call of the PNP needing 17,000 new recruits now!
The PNP is inviting all "able-bodied Filipino men and women," whose ages are from 21 to 30, to take "the challenge to serve a noble career in the police service," said Gamboa.
Gamboa also said that they are on the hunt for applicants who would be the most qualified in the post.
We want the largest pool of applicants that we can muster from which to select only the best and most qualified candidates [who] will be recruited into the police service."
Read: The Philippine Navy (PN) is Looking for Nurses With a Monthly Salary of P43, 686
Another reason as to why they increase the quota was because the new recruits would replace those would be retiring, dismissed, deceased, and/or separated from their job, including those whom are listed as absent without official leave.
How to apply?
You may asked now, how do I apply? Well it's simple. The PNP actually released their application online making it easier to those who want to get the role.
Read: The Philippine Drug Enforcement Agency (PDEA) is Hiring Intelligence Officers Nationwide
As mentioned by Police Major Gen. Lyndon Cubos, who is PNP's director for personnel and records management, those who want to apply can file their application online through PNP's online recruitment application system (ORAS) portal.
In fact, we have written a specific guide on how interested applicants can apply to the PNP, whatever post they want using the PNP ORAS! You can click here to find out! In this guide, you'll not only be guided how you can safely navigate through the site; it will also teach you what you need to click and do for you to be able to successfully apply!
Cubos said that they were able to shift from the traditional form of application, to a more advanced one being more advanced; not just that, it opens more opportunities and even promotes the selection process.
Read: Senator Ronald "Bato" dela Rosa Wants Police and Military to Indoctrinate Students
We have adapted this digital information system in recruitment application to level the playing field for all applicants by eliminating opportunities for third party intervention in the rigid selection process."
Now under the ORAS system, everyone who applies becomes "nameless and faceless entries," only being represented by barcodes as they go through every mandatory procedure of tests, exams, and interviews as stated by Cubos.
Making it online was a good decision, making the process fair and faster for everybody who wants to get the job. With this, no more wasting of time and papers; everything is done online and digitally.
Read: Different Job Opportunities from Different Philippine Government Departments
Now is your chance!
So to those aspiring, now is the time to apply. Since the quota has been raised, you get a higher chance of getting the job.  Although you need to go through a long process but in the end it's going to be worth it. It's not just an honorable job but also a rewarding one. You, yourself would be able to enforce the law and would be able to make a change for our country.
Answer the call of the PNP needing 17,000 new recruits for this year, who knows? This might be the only chance you've been waiting for! Wait for further announcement in terms of application but you can refer to the PNP website and PNP ORAS to know more about application and applying to get a chance at the PNP!
Source: Manila Bulletin News