Several government unions including Confederation for Unity, Recognition and Advancement of Government Employees (Courage) urged the government to increase the national mininum wage to P33,000 nationwide.
In a television interview, Courage President Santiago Dasmariñas said that the monthly salary is too small citing up the declining peso's purchasing power as a result of growing inflation, plus the increasing prices of commodities and services.
Read: AMENDED: Additional Benefits for Solo Parents conforming the Expanded Solo Parents Welfare Act
A family of five need at least P12,030 monthly to cover both basic food and non-food needs, according to the Philippine Statistics Authority's preliminary data from the Family Income and Expenditure Survey.
But according to some Filipinos, the P12,030 data of PSA is insufficient for a family to survive in a month.
Read: P650 National Minimum Wage, Pushed by Lawmaker
According to the study of non-government organization Ibon Foundation, a family comprising of five member should be earning P24,632 monthly or ₱1,119 daily in order to live a decent life in Metro Manila.
Meanwhile, according to Annie Geron, president of the Public Services Labor Independent Confederation (PSLINK), they have long had to deal with rising costs, and it is now past due to adjust their compensation as employees.
Read: DOLE: Wage hike in NCR and Western Visayas has been approved
"Sinasabi maghigpit ng sinturon, ang totoo niyan matagal nang namamaluktot sa kumot wala nang kakapitang ang sinturon kahit na anong higpit mo. Malalaglag na yung pantalon mo dahil wala nang kinakapitan," Geron said.
On the other hand, Bayan Muna Party-list Rep. Ferdinand Gaite argued that it's vital to pay the biggest part of salary increase to individuals getting minimum wage. He criticised the SSL for giving the highest raises to the officials making the highest salaries.
Read: Current Regional Daily Minimum Wage Updates in All Regions as of February 2021
"Importante 'yung pinakamababa ang may pinakamalaking increase. 'Di tulad ng mga nakaraang SSL. Ang pinakamataas na increase ay yung matataas na officials," Gaite said.
The Department of Budget and Management (DBM) has announced that they would be looking at the last tranche of SSL next year.
"Noong nakaraang buwan, umabot na ng 7.7 percent ang inflation rate samantalang 'yung sweldo ng mga kawani ng gobyerno, lalung-lalo ng nasa mababang posisyon, ay mababa pa rin. Kaya po ang aming panawagan: Across the bureaucracy, dapat pantay-pantay lahat," Damariñas said.
Read: Salary Standardization Law, Signed by President Rodrigo Duterte
"Present policies like the Salary Standardization Law (SSL) and the Compensation and Position Classification System (CPCS) have deprived us of salaries and benefits we need to make ends meet," Dasmariñas added.
The SSL was created to rationalize and enhance the pay of public sector employees, contrary to the CPCS, which is a standard compensation package for employees of government-owned and controlled corporations.
Read: Cabinet Members Give 75 Percent of Their Salaries to Help in the COVID-19 PH Government Efforts
A new hire assigned to a Salary Grade 1 post will only receive a monthly salary of P12,517 under the third revision of the Salary Standardization Law, which went into effect on January 1 of this year.
So, if a government worker is earning P12,517 monthly, minus P12,030 is equals to P487, that's the only amount left from his salary.
Read: President Rodrigo Duterte Assures All Teachers' Pay Increase is on His Plans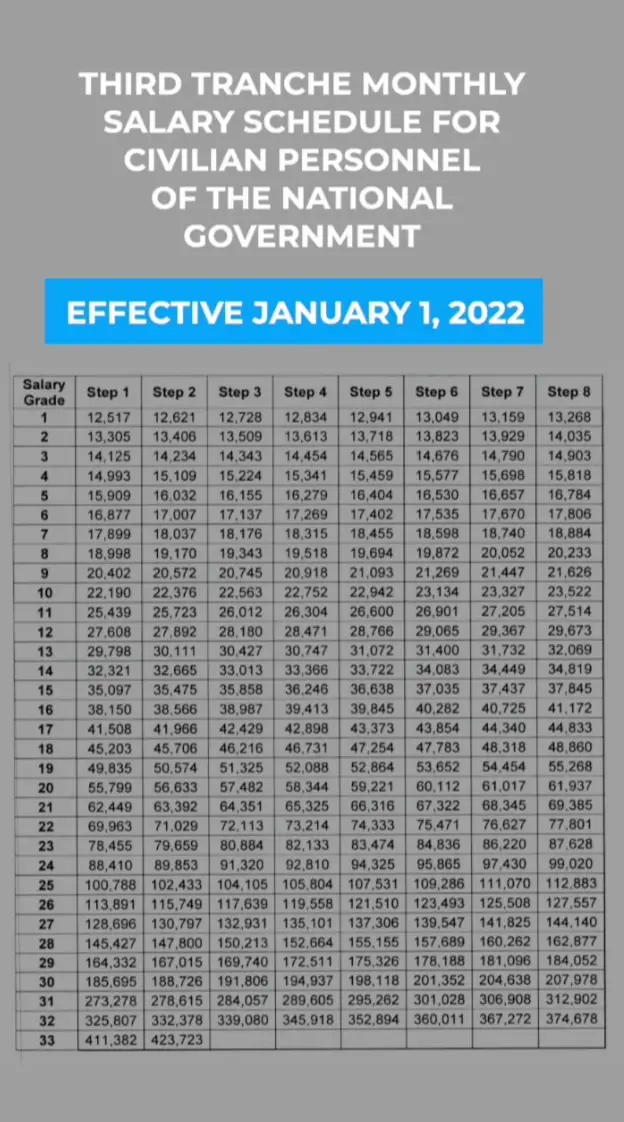 This image was taken from Inquirer.Net"
Source: Inquirer.Net