If you've been in other countries such as the United States of America, you'd notice that most restaurants there include the calorie count and nutritional information of the meals they serve.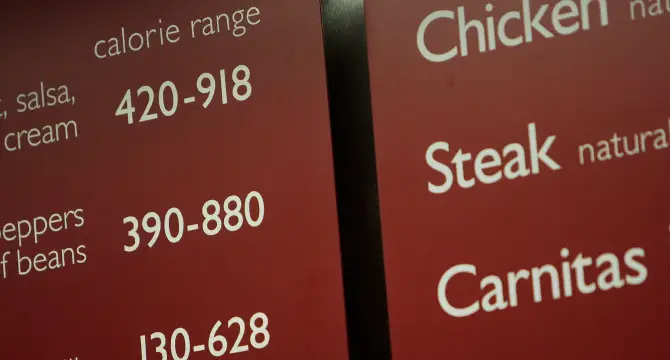 This is to make sure that the person who chose it is aware of what its composed of; for instance a whole meal of beef and veggies would list down whatever they have.
Here in the Philippines, a bill that has been pending for quite some time now is targeted for that very purpose.
Read: High Levels of Methanol Found in Five Lambanog Samples
Calorie count and nutritional information
Being a diner, it would be beneficial for us to know how much calories or what the nutrients are in certain meals, right? That's what Quezon City Representative Alfred Vargas thinks, so, too.
In filing of the House Bill (HB) No. 5823, or the bill known to require restaurants of calorie count and nutritional information, says that requiring restaurants, food hubs, and fast food stores would promote healthy diets if they include the nutritional information about what the serve.
It can either be on the menu or on the food boards they have on their stores; wherever it is, the main goal is to make all the consumers and diners aware of what they will intake in terms of calorie and nutritional value.
Read: Four New Tax Bills Starting Next Year, Eyed by the House of Representatives
The disclosure of calorie count
As per the bill, the nutritional information that would be displayed by these establishments should include:
The saturated fat
Amount of fat
Cholesterol Levels,
Sodium
Carbohydrates
Sugars
Fibers
Protein
This way, people would know how much fat they'll be consuming if they choose a certain meal. In addition to that, the bill also states that the amount of calories must be declared and this one is vital.
Read: PhilHealth Contribution Increase to Start on December 7
However, should food or meals have calories lower than five (5) can be expressed as "zero" (0).
Vargas expressed that most, if not all consumers are left unaware and unconscious about how much fat or calories they take. With the bill being approved, it'll somewhat empower them to choose whatever they want or need.
They are often unaware of the calorie and nutritional contents of a meal, leading them or misleading them into an unhealthy eating pattern."
The right to choose
Upon filing of his bill, Vargas explained that this bill is meant to "empower all customers and consumers with the right to choose the food they want to eat without their health being compromised."
Read: Makati Lawmaker Files a Bill That Would Grant a 5-Day Leave For Mental Health Wellness For All Employees
Basically, the bill will teach all consumers and customers check what they should eat and what they're consuming.
Food labels are becoming a common thing but the amount that we see aren't enough; we are not as informed as how other countries inform their consumers.
Status of the bill now
As of this moment, the bill is still undergoing thorough checking; it has been since referred to the Department of Health (DOH) for observation and study. Should the bill be signed into law, restaurants, fast food chains, and food hubs who would be caught violating the disclosure requirement or the law would be fined anywhere within P20,000 to P100,000.
Read: 5-Day Calamity Leave Law Pushed by Senator De Lima
A similar bill was sought by Senator Leila De Lima which is the Senate Bill (SB) No. 854 or more commonly known as the Nutritional Information Disclosure Act. Similarly, the act looks to mandate the disclosure of calorie count and nutritional information in the menus and boards of food establishments.
Nutrient content information provided at the time of food selection in food service establishments would enable consumers to make more informed and healthier food choices, promote health awareness and proper dieting."
De Lima adds the fact that weight gain occurs more frequently when more calories are consumed than those that are burned.
Weight gain occurs when more calories are consumed than are expended. Eating out, and eating extra calories while eating out, contribute disproportionately to the excess calorie intake that fuels the rise in incidence of obesity. Those who are less aware of the need for proper dieting are left oblivious of the nutritional values that they intake, which would potentially cause detrimental effects on their health in the long run."
Read: 5 Unregistered Food Products, Tagged by the DFA
Basically, the bills that look to disclose calorie count and nutritional information is for the betterment of the health of all consumers in the country.
What do you think of these bills? Could this really be beneficial to everyone especially to those who are trying to maintain their weight?
Source/s: Manila Bulletin News | The Philippine Daily Inquirer