Valenzuela City's local government made announcements on the launch of  its own online portal for jobs. Their website,which is  www.ValenzuelaTrabaho.gov.ph was revived as a way "to intensify its efforts to encourage Valenzuelanos to go digital even with their job application" and "to connect job seekers with employers and vice versa."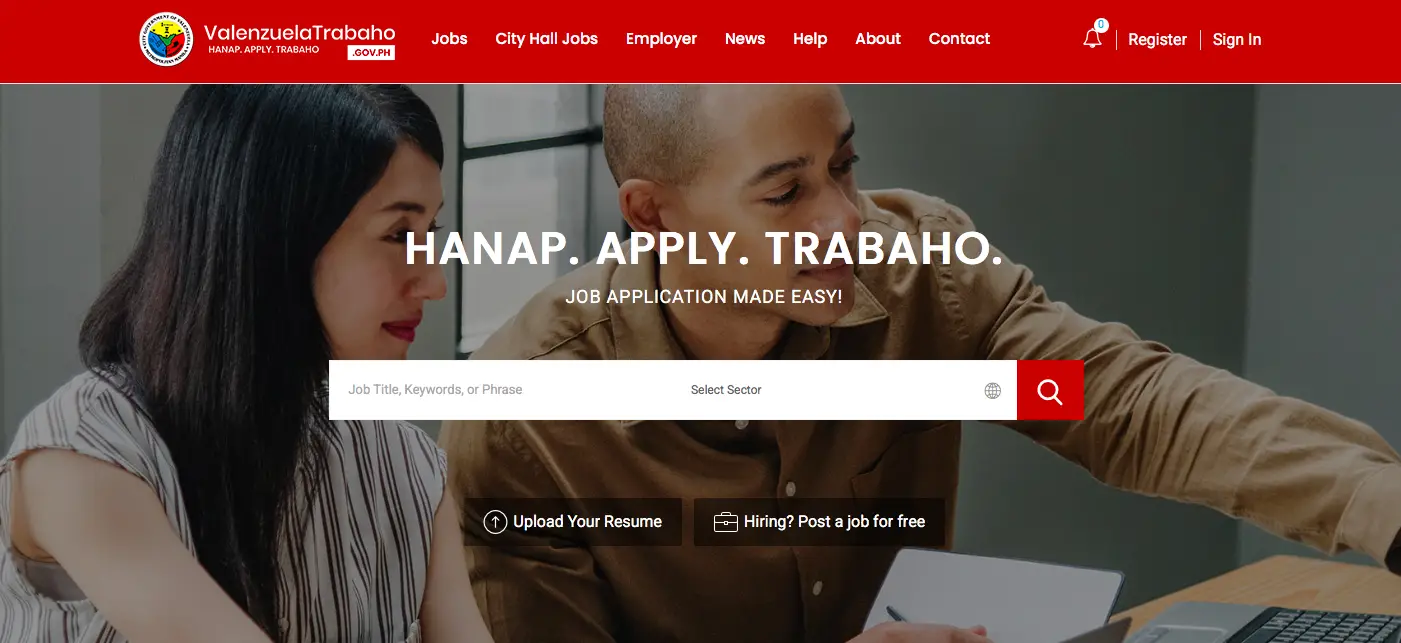 The local government claims that the online portal for jobs is the key in hastening the process of finding jobs for the jobless residents in Valenzuela City.
BREAKING: The 2021 March LET Board Exam Schedule For Online Application And Date Of Exam
The new and improved Valenzuela Trabaho job portal promises to make job posting and hunting a very pleasant and hassle-free experience for both employers and job seekers alike."
Moreover, the present website thereof is more mobile-friendly whose layout or interface adapts according to the size of the user's mobile screen for easier and better browsing and navigation.
As per the announcement, they were able to filter job advertisements to assist in the streamlining of jobs and careers.
More importantly, it has a filtered job advertisement feature to help the jobseekers streamline their search and determine which job offer fits their credentials."
Read: Job-Hunting Sites PH: The Demand of the Internet Age and Economy
Is it Exclusive to Valenzuela Residents? 
The online portal for jobs remains exclusive only to the city residents, but the local government reiterated that the portal welcomes employers despite the places they operate.
In addition to that, jobseekers can also use the website to register and to wait for a 24-hour window of time to have their accounts be activated. Once their accounts are active, they'll already be able to begin their journey of locating a job.
Read: Here's How to Register a New Online Business? You Can Do it in Less Than 10 Minutes
Can Employers Use the Online Portals for Jobs Too?
Employers, on the other hand, must register their companies and provide all the important details thereof before they can post their job openings.
But yes, they'll also be able to access it. In fact, this will be easier and a lot lighter for them to look for candidates about the job openings they have.
The portal also features that job advertisements are posted at present time. This means that an advertisement that has been posted can last for a maximum of three months.
After the allowed period, their advertisements on the portal will be deleted if it has not been closed or removed by the employer.
In case you're wondering, the website has a total of 451 employers as of writing. Jobseekers, on the other hand, stand at 20,000+.
Read: You Can Get a Reward For Reporting Corrupt Government Officials, Get Up To P100K
When more Valenzuela City residents find out about this, it'll literally blow-up.
What are the Job Categories Available? 
What jobs can you get if you choose to work on the website? As of the moment, there are currently eleven (11) job categories seekers can choose from.
They range from simplistic jobs to crucial and relevant job positions in the market.
The job categories available that you can be in if you work with us include:
Also Read 19K Jobs Offered in the IT-BPM Industry; OFWs Prioritized
Construction (Structural) and Facilities
Office and Clerical Industries
Sales & Marketing Sector
Restaurant and/or Food Services
Technology Industry
Healthcare Industry
Education Training Industry
Automotive Sector
Industrial and Engineering
The Telecommunications Industry
Accounting & Finance Industries
How About Government Positions?
Do you yearn to work with or for the government? Worry not! Because the online portal also has a category for Valenzuela City job hall openings, too!
The job portal includes several more privileges for its members, such as an automatic invitation to job fairs, free seminars and training, and email and mobile notification of application status.
BREAKING: Metro Manila Subway Project to Provide About 60K Jobs to Filipinos
Learning how to navigate within the site is easy. It's pretty self-explanatory, so long as you're already knowledgeable and adept with it.
Tutorial or Guide for People
Within the site, there's a tutorial for both employers and employees. It's a guide that they can follow for them to have a better and an easier experience while utilizing the portal.
You can access that guide by visiting the website. It's at the homepage – you'll be able to find it within a few minutes!
Inquiries, Concerns, and Questions
For inquiries regarding the Valenzuela Trabaho job portal; or if you show interest as a business or an individual – you  may reach the city's Job Generation Office through hotline 8352-1000 local 1215, its Public Employment Service Office through local 1710, or visit their website at https://www.valenzuelatrabaho.gov.ph.
What do you think of the online portal for jobs that the local government of Valenzuela City revived? Do you agree that it is a smart move on the city's part or not? Can this help out the multitude of people looking for jobs?