The Department of Labor and Employment (DOLE) has approved the basic pay increase of P1,500 for house helpers in the Metro. House helpers saw this as an early Christmas gift from the agency, potentially continuing over the years.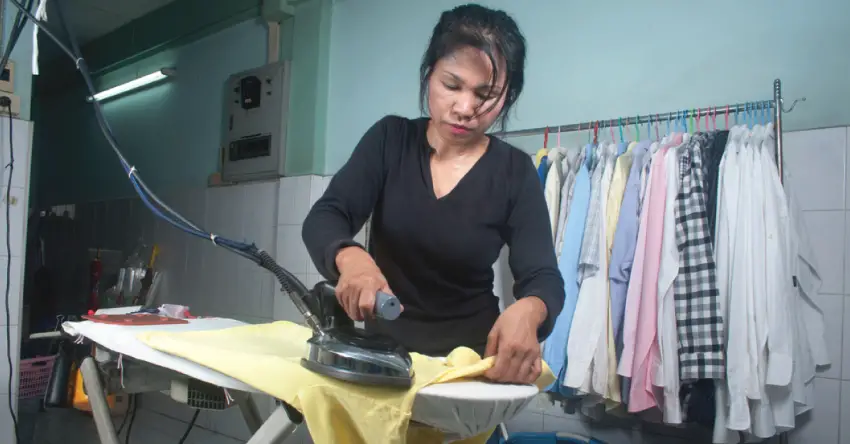 Silvestre Bello III, DOLE Secretary, said that the Regional Tripartite Wages and Productivity Board (RTWPB) OK-ed the new and improved basic salary of domestic workers in the NCR to P5,000 per month.
Read: P3 Billion in Cash Aid, to be Given to Rice Farmers
Isn't this a small jump for their basic salaries?
The basic pay of household workers before this approval was only at P3,500 per month. Jumping to P5,000 can be considered as a "big jump" especially with the fact that nothing was changed to how they are expected to work.
Basically, the jump was approved to boost the morale of domestic workers in the country – for them to be encouraged to stay here and help their countrymen instead of working overseas to be a domestic helper.
What would happen if employers fail to abide by the basic pay increase of P1,500?
In an interview with Secretary Bello III, he said that should an employer disregard and choose not to follow this rule, they can issue a compliance order to them. However, they have no such power to punish these employers.
Read: Earlier Retirement Age Bill For Government Workers, Filed by Senator Gatchalian
'Yun ang problema. Mabibigyan lang natin sila ng compliance order. Pero wala kaming sapat na kapangyarihan para parusahan sila, 'yun ang pagkukulang ng ating batas."
In Translation: That's the problem, what we can only do is to give them a compliance order. We do not have the authority to punish them; that's what our labor code is lacking.
Does the increase only affect workers in the NCR?
In addition, Bello explained that for now, only NCR household workers were given the approval. However, the basic pay increase of P1,500 will also apply to other regions and provinces.
Read: Teacher's Salary Increase Going to Happen Any Time This Year
In that regard, the increase will be staggered and it'll vary from P500 to P1,000, depending on the location or region.
That being said, domestic workers from all over the country should expect to feel an increase but they would still have to wait for further announcement.
When will the pay hike be effective?
Under the discretion of the National Wages and Productivity Commission (NWPC), the raise will be enforced and will be effective once it's approved by them.
Read: Bill That Seeks to Increase Public School Teachers' Salaries, Filed by Senators
Bello expressed his feeling of disappointment as he said that even though there's an increase, it was still insufficient for what he wanted domestic workers to get. He said that he recommended that it would be better if they've pushed the minimum wage to be at P6,000, not just P5,000.
I impliedly suggested that it would be good for Metro Manila that we peg the minimum wage at P6,000. If you are able to hire a domestic help, then you can pay P6,000. But, of course, we can't dictate on our RTWPB."
Historically, the minimum wage of domestic household helpers were only at P2,500 for Metro Manila workers. This was back in 2013 when Republic Act (R.A.) No. 10361 or more known as the Domestic Workers Act was approved.
Then, in 2017, the RTWPB OK-ed the raise of these workers' salaries to P3,500. Now, with the approval in place, it's just a matter of time until household domestic workers in the NCR feel the increase in their basic pay from P3,500 to P5,000.
Read: Nurses in the Government Should Not be Paid Less Than 30K a Month – SC
Could more increases happen?
Definitely, in fact, as Secretary Bello said, he aimed for an increase to P6,000, not just P5,000. But for now, the approved rate was just at P5,000. He says that he's not losing hope for these domestic workers in getting more for their monthly salary.
What do you think about the basic pay increase of P1,000 for domestic workers? Do you agree with the Labor Secretary in expressing his thoughts that this wasn't enough? Or do you think otherwise? Do you think that household workers deserve a far larger pay than what they're given now?
Read: Israel is Looking For 1,000 Pinoy Hotel Housekeepers as per the POEA
Household domestic workers are an important part of society. In fact, they are paid well in other countries. Without them, our homes would be a mess especially if we're out and about busy working for our families and to put meat on the table.
Let's wait for further announcement on whether this would be the final increase and when other regions and areas provinces in the Philippines would adapt to this basic salary increase for household workers.
Source/s: Cosmo PH | The Philippine Daily Inquirer