Various concerns and debates that revolve around the topic of increasing the salaries of public teachers have been brought up. In fact, several issues have grown including Senator Vicente Sotto's proposal to exempt public school teachers from paying income tax.
You can read more about that here: Sotto Looks to Exempt Public School Teachers From Income Tax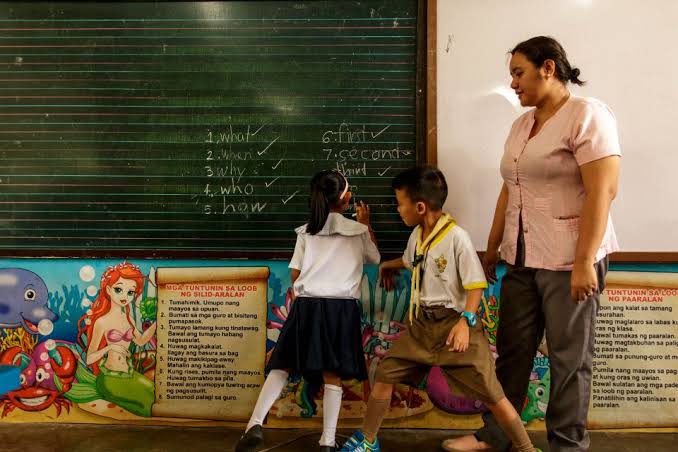 Not just that, there was also some discussions about teachers voicing out to our dearest President, Rodrigo Duterte about not keeping his promises during his campaign; and many other more.
Read: Japan Will Now Start to Accept Filipino Language Teachers
So to all teachers, your prayers have been answered; President Rodrigo Duterte made a promise, a vow that the long-awaited hike in salary of teachers is finally happening soon. And by soon, he means that it's going to happen any time this year.
Sudden spike on the number of teachers in the country
After his visit to Russia to finalize the Philippines-Russia labor agreement, and of concocting various transactions, President Duterte said and assured all teachers that the increase in their salary is happening this year.
Mas marami ang teachers, my God, pero nandiyan po, darating 'yan, this year."
Read: Bill That Seeks to Increase Public School Teachers' Salaries, Filed by Senators
In Translation: There are more teachers now, my God. But hear this, it's finally coming; the hike in salary of teachers is to arrive this year.
And if many people aren't aware; the number of teachers in both the private and public sectors have drastically increased; making it one of the most undermined professions in the professional industry.
Why didn't President Duterte announce a specific date of effectivity?
Many people wonder why Duterte did not give a date of when this will be effective. Well, President Duterte explained that if he gives a timeline and he does not meet it, he would have to explain.
Read: 100% Increase in the Teachers' Salaries in Ten (10) Years
Furthermore, he says that if he doesn't give a timeline and just says that it's on the pipeline, people will know that it's there.
If I give you the timeline, tapos I could not make it on the deadline, I have to explain more than what is expected of the government. Mas mabuti na 'yang nandiyan na, sinasabi ko, nandiyan na 'yan."
In Translation: If I give you the timeline, then I could not make it on the deadline, I would have to explain more than what is expected of the Philippine government. Otherwise, I think it's better to tell them that it's already on the pipeline; it's better.
Where does this increase come from?
At the beginning of the year, President Duterte said that it was in his plans, originally to increase the salary of teachers in the country. He says that it never slipped his mind.
Read: Earlier Retirement Age Bill For Government Workers, Filed by Senator Gatchalian
Because of the fact that President Duterte signed agreements increasing salaries of the military, policemen, and soldiers last year, teachers became eager to look for an increase to their salaries.
In fact, when it was his campaign, the hike in salary of teachers was one of the things that drove him to success. This was why educators had a chained reaction when Duterte was focusing more on other things versus working on having a hike in salary of teachers.
Basta sinasabi ko, may increase din sila. That I'm very sure of."
Read: 2,000 More Jobs in Yukon, Canada, Announced by DOLE
In Translation: Well that's what I said, they will have their respective increase. That, I am very sure of.
How much do teachers earn?
You might be wondering why teachers are this eager to get an increase. Well, to be totally frank; teachers, as noble as their jobs can be, they are not earning that much compared to other professions in the line of their industry.
As of this moment, entry-level public school teachers, who have a Salary Grade (SG) of 11 under the fourth (4th) Tranche of the Salary Standardization Law (SSL), are earning P20,754 on a monthly basis. Of course, that will improve as time goes on but looking at it on an entry-level perspective, it's not that much.
Read: Senator Panfilo Lacson Files a Bill That Would Exempt Government Employees and Officials From The Bank Secrecy Act
So if we really look at it, that amount might still not be enough even for their daily needs. Which concludes why our dearest President pushes for a hike in salary of teachers.
Do you think this will be prioritized? Would the promise of this increase to be done within the year going to be in effect? We do hope that this gets prioritized so that our noble teachers get a better piece of the cake that they really deserve.
Source: ABS-CBN News