The Technical Education and Skills Development Authority (TESDA) is the leading government-agency responsible in the management and supervision of technical education in the country.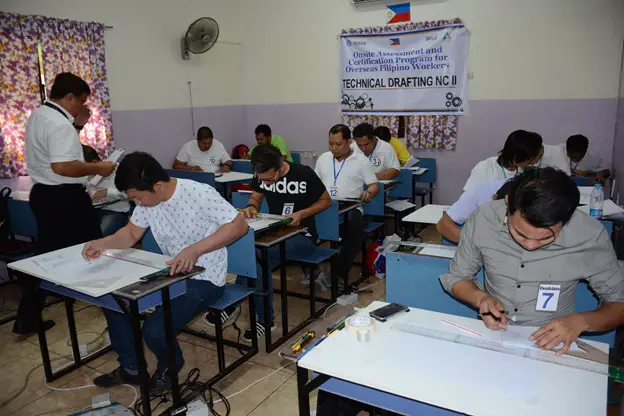 They offer hundreds of skills and opportunities to those who are interested. But we won't be focusing on that. Instead, we'll be discussing some of the TESDA job opportunities for those who are interested in working with TESDA.
Read: SEC Job Vacancies for November 2019
TESDA Job Opportunities
Similar to any other agency or company, TESDA needs employees too. Since it's going to be with TESDA, the employees would be treated as public sector employees. Therefore, they'll be given the privilege to receive benefits in accordance to regular Philippine government employees.
What are the available job posts?
TESDA is hiring and they're looking for an Administrative Aide IV and an Administrative Officer IV in their National Capital Region (NCR) Office. Don't worry because we'll be filling you with every information you need should you be interested to apply.
Read: DTI Job Vacancies: The DTI is Looking For New Employees Under Different Department
So without further ado, here are the details of the available TESDA job opportunities:
Administrative Aide IV
Job duties and responsibilities
20 percent
Must drive the official vehicle
Must attend to the maintenance of the vehicle
Perform minor repair and major troubleshooting
10 percent
Monitor and maintain preventive maintenance plans
Perform messengerial (liaison) tasks as requested by superiors
Prepare requirement on the use of the official vehicle
5 percent
To assist in the orderliness of the workplace; and
Perform other tasks as required by superiors
Read: Fire Officer Examination 2020 – Schedule and Application Details
Job details
Position Title: Administrative Aide IV
Former Incumbent: Ronnie V. Capua
Item No: TESDAB-ADA4-51-2017
Salary Grade: SG 4
Monthly Salary: P13,214.00
Place of Assignment: TESDA National Capital Region, PaMaMariSan District Office
Education: Must be at least a high school graduate or must have completed a trade or vocational course related
Experience: No Experience required
Training: No Training required
Eligibility: Relevant MC 11 s. 1996 or Career Service Sub-Professional or First Level Eligibility
Qualifications
Must be computer literate
Must have good work ethics
Good moral character
Oral and written communication skills should be average
Core competencies
A team player
Effective working habits in education, training, and vocational work
Demonstrate work values
Knowledgeable in housekeeping procedures
Must receive and respond to workplace communication
Read: The Philippine National Railways is Hiring Operations Officer and Maintenance Workers
Administrative Officer IV
Job duties and responsibilities
15 percent
Analyze all reports submitted by Provincial and Regional Offices
Monitor and observe the compliance to the suspension notices or disallowances
Maintain different books of accounts for funds
Reconcile the balance of accounts for Central Office/Regional and Provincial Office funds
Review all accountability reports and disbursement vouchers for the submission to the Commission on Audit (CoA)
Prepare the accountability and financial reports for submission to fiscal agencies
10 percent
Perform other related functions as required by superiors
Job details
Position Title: Administrative Officer IV
Former Incumbent: Jeffrey C. Magadan
Item No: TESDA-OEOB-ADOF4-72-2017
Salary Grade: SG 15
Monthly Salary: P30,531.00
Place of Assignment: TESDA National Capital Region, CaMaNaVa District Office
Education: Bachelor's Degree relevant to the job vacancy
Experience: At least one (1) year of experience
Training: At least four (4) hours of relevant training
Eligibility: Career Service Professional or Second Level Eligibility
Read: The DILG Central Office is Looking For an Action Officer and a Project Development Officer II
Qualifications
Must be proficient in basic computer programs
Can work under pressure
Has good work ethics
Good moral character
Core competencies
Comfortable working in a team environment
Should be able to effectively work in both vocational training and education
Must interact with customers
Must promote programs and services
Must utilize IT applications
Should implement and impose quality standards and procedures
Must prepare reports appropriately
Deadline of application
All applicants interested in either of the job vacancies are required to submit their letter of applications along with the required documentation no later than November 18, 2019.
Read: The Bureau of Corrections (BuCOR) Hiring: They're Looking for Corrections Officer I and Corrections Technical Officer I
NOTE: Applications with incomplete documents will not be entertained.
How can I apply?
These TESDA job opportunities are open to all who are willing to work with the agency. However, just like any other job application, here are the required documents needed:
Fully accomplished Personal Data Sheet (PDS) (CSC Form No. 212, Revised 2017)
List of training programs attended

With the number of training hours
Certified photocopies of the training certificates

Copy of previous appointment (for government employees)
Ratings:

Performance Evaluation System (PES) ratings for Fiscal Year 2018 for outside applicants.
Individual Performance Commitment Review (IPCR) ratings from Jan 2018 to June 2018 and July 2018 to December 2018 for government agency applicants or TESDA applicants. Must have at least Very Satisfactory Rating

Certified True Copy of the Transcript of Records (ToR) or Diploma
Certified True Copy of the Eligibility by the Professional Regulations Commission (PRC) or the Civil Service Commission (CSC)
Statement of responsibilities and duties for the posts held which includes the specific period covered in the following format (mm-dd-yy [to] mm-dd-yy)
Read: Around 2 Million Jobs to be Offered by Cebu City
Documents along with the application letter shall be submitted to the Financial and Administrative Service Division (FASD) on or before the 18th of November 2019.
Have you been looking for a job in the public sector? These TESDA job opportunities might be the one you're rooting on! Go and prepare all of your documents and be a part of TESDA!
Read Also: