Firecrackers are among the traditions of Filipinos in almost every occasion. Especially when it's the New Year, firecrackers can be seen in almost every corner nationwide.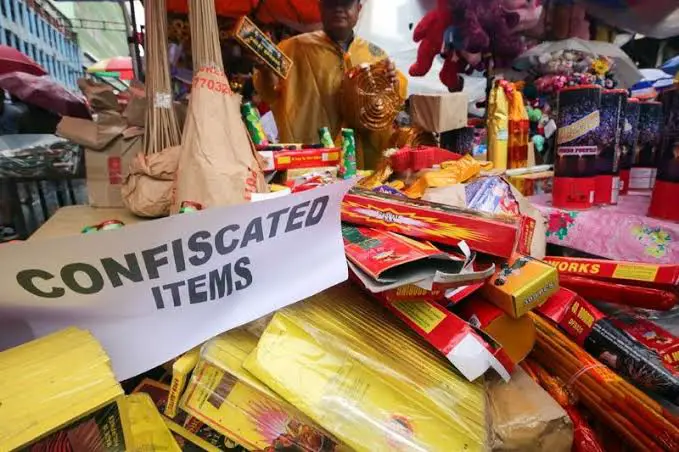 As most people know, firecrackers impose a heavy risk in the health and safety of those who use it. The Department of Health (DOH) suggested to lawmakers to file a law that would have a total firecracker ban.
Would a firecracker ban work?
It will work in most cases but us Filipinos, being the most active as we are, might find it difficult to adjust. Especially when every New Year's, we have firecrackers and fireworks, it'll be a hard thing to do.
Read: Free Transportation of Relief Goods Bill, Approved by the House of Representatives
This comes after the DOH launched the "Iwas Paputok" campaign. The campaign focuses on the act to refrain from using firecrackers to ensure the safety of Filipinos.
Francisco Duque III, DOH Secretary, said that in the firecracker ban they're suggesting, there should have no distinctions. He said that all firecrackers, small or big or legal or illegal, can cause injuries and therefore, should be banned.
It is incumbent on lawmakers to pass laws that will prohibit the use of firecrackers because these put people's lives at risks, especially the children. We advise parents to keep a watchful eye on your children this season."
Read: Malasakit Center Act, Signed Into Law by President Rodrigo Duterte
New Year's Firecrackers
As Duque pushed his opinion on the full firecracker ban, he said that the government should also consider other factors; the Philippine government must take into consideration the livelihood of the firecracker industry workers.
He continued to say that workers in the industry should have an alternate source of income in order for their livelihood not to stop.
Some of those firecracker sellers only rely on their products for their source of income.
Read: Basic Pay Increase of P1,500 For House Helpers in Metro Manila, Approved
This is not a one-dimensional issue because there is an economic factor. If I have power to ban it, I will do it, but it's not as simple as that."
Firecracker Fatalities
The DOH would not think of a firecracker ban out of the blue. As a matter of fact, Duque said that children were the most accounted for for the most firecracker-related injuries in previous New Year's celebrations.
Read: Visa-Free South Korean Entry For Filipinos Might be Possible
As per data coming from the DOH, there were 338 injuries that were firecracker related from the 21st of December 2018 until the 5th of January 2019.
In fact, the DOH said that two (2) firework ingestion during this specific period. That figure, 80 victims or about 24 percent were aged five (5) to nine (9) years old.
Although as per the DOH, this figure is already 34 percent lower than the 550 cases in the year 2017. It's still high even if it's slightly lower but Duque said that the trend was proving to be a good sign. However, the DOH said that they would instill to the public that using fireworks are dangerous and that everyone should avoid firecrackers.
Read: Free Delayed Birth Registration, Pushed by Agusan del Norte Solon
Duque said that while the firecracker ban is still sitting on the parking lot, they are advising parents to convince their children to refrain from using firecrackers.
We advise parents to keep a watchful eye on your children this season."
Signs to put up in hospitals
Health Secretary Duque said that hospitals nationwide would be proactive in putting up signs to discourage people, especially young people from using firecrackers in all occasions.
Read: President Rodrigo Duterte Orders Government Agencies to Settle Transactions on or Before December 10th, 2019
As per their data, most of the cases from their data were recorded from the National Capital Region (NCR) with 123 cases. This figure was followed by the Ilocos region with 52 cases and lastly, the Visayas region with 51 cases.
In addition to that, the DOH said that injuries caused by illegal fireworks, kwitis, specifically, account to a total of 22 percent. Picolo and boga accumulated six (6) percent while luces had 12 percent.
Duque recommended safer alternatives of fireworks. For instance, loud street parties can be an alternative to these fireworks. Music festivals, community fireworks displays, horns, are among the best ones.
Read: Road Tax Increase of 90 Percent, Approved by the House of Representatives
People would be positively affected by the firecracker ban as it would impose healthier and better measures.
What do you think about the ideas of having a firecracker ban in the country? Would this truly promote the health of the Filipino community? Or would this just diminish the sources of income of those who are in the industry?
A total ban of fireworks and firecrackers would be a true positive thing for both the health and the wellness of the whole Filipino community.
Source: The Philippine Star