After the concurrent flow of storms and typhoons in the country, the House of Representatives approved the bill that would allow the free transportation of relief goods; donations to areas that have been struck by calamities, too.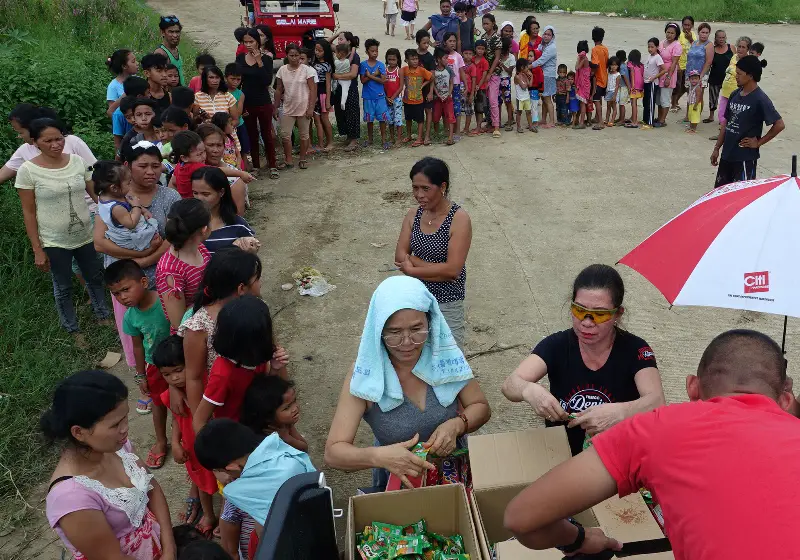 As of this moment, the bill has been approved by the House and is on its third (3rd) and final reading. House Bill (H.B.) No. 5070 or the bill that seeks swift response to relief for victims who have been affected by natural disasters, even man-made disasters anywhere in the Philippines.
Read: The Malasakit Center Act, Signed Into Law by President Rodrigo Duterte
Who authored this bill?
The bill was authored by San Jose del Monte Representative Florida Robes back in May. Upon filing, she said that in times of disaster, food and water are important. In fact, it's what they need to survive.
As humans can only last few days without food and water, relief operations are important. In this case, response mechanisms and guidelines must be geared towards saving lives in the immediate aftermath of any disaster."
What does the bill entail?
The bill received a unanimous decision from the House, with 170 lawmakers saying yes to it. The act mandates that the Philippine Postal Corporation (PPC), the Office of the Civil Defense (OCV), as well as other carriers, freight companies, and forward carriers to allow necessary transportation of relief goods in areas that are officially declared to be under "state of calamity" to be for free.
Read: Free Delayed Birth Registration, Pushed by Agusan del Norte Solon
Basically, should the bill get approved into law, companies and agencies nationwide would conspire and push for the free transportation of relief goods to areas and neighborhoods who are stricken by natural calamities or disasters.
In addition to that, the bill also directs the National Disaster Risk Reduction and Management Council (NDRRMC) to provide efficient traffic management and security to the Response Cluster's (RC's) operations.
What this does is it ensures the hasty and flawless transport of relief goods to people and neighborhoods who are in dire need of it.
Read: House of Representatives Looks to Pass Proposed Laws Creating 3 New Government Departments
Other versions
Senators and other lawmakers filed bills that have the same ideals. Back in November, Senator Manuel "Lito" Lapid filed the Senate Bill (S.B.) No. 1151 or also known as the Relief Goods Free Transportation Act. 
Upon bill filing, he said that relief good transport always involves high and lucrative fees. That their goal should be to make it "easier" for the people to send them; for the people on the other end of the rope to receive them.
Transporting relief goods normally entails huge costs in freight, arrastre services, pilotage and other port charges. Layunin nating siguraduhin na mas mapapabilis ang pagpapaabot ng tulong sa mga kababayan nating nasalanta ng bagyo o naging biktima ng iba pang sakuna tulad ng lindol o landslide."
Read: Salt Tax Proposal, Rejected by Lawmakers
In Translation: It is our goal to ensure the expedition of sending help to Filipinos who have been affected by natural disasters and calamities such as typhoons, or those who have been affected by earthquakes or landslides.
In his version, he even expounded that the costs for these shall be shouldered by relief organizations.
These costs are shouldered by relief organizations and aid agencies, but such amount could have been allotted to acquire more food and nonfood items for distribution to disaster victims."
Read: 5-Year Tourism Deal Between PH And South Korea to Boost Tourism Ties, Signed
Typhoon Tisoy
Within the past few days, Typhoon Tisoy has struck our country in the worst ways possible. Hundreds of households were affected badly – so there were hundreds to thousands of people who needed help.
The House was diligent enough to approve the measure after the typhoon left our country. Should this bill be approved and get signed into law, we can then enjoy the privilege of free transportation of relief goods to areas and communities that have been struck by calamities and man-made disasters.
Read: Senator Panfilo Lacson Files a Bill That Would Penalize People Who Abandon Their Sick, Old Parents
What do you think about this bill? Would this greatly help the country in terms of distribution of relief goods in calamity-stricken areas? Or can this have no bearing on the type of donation services we currently have?
A majority of lawmakers thought that the free transportation of relief goods would be a life-changing act if it gets signed into law. Maybe early next year, it's going to get approved. That, we don't know. What we know of is that the Philippine Government is doing all necessary things to help people who have been vulnerable because of the natural disasters that struck our country.
Source/s: CNN Philippines | The Philippine Star