Due to Typhoon Ulysses, hundreds of thousands of people lost their homes. Many people passed and it was due to the inhumane flooding that left the north bewildered on how they can get back up and recover.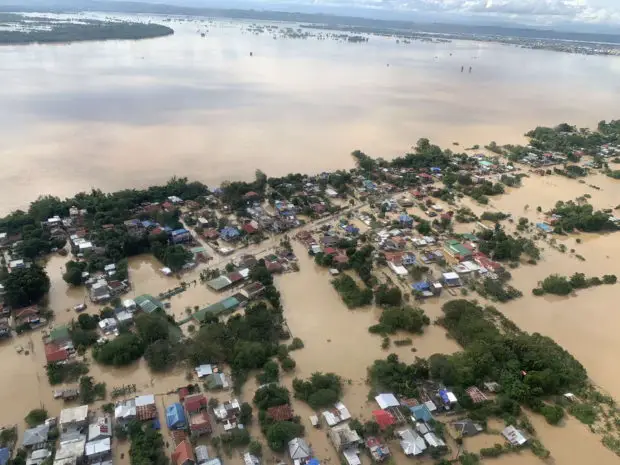 There have been a lot of our countrymen struck by it.
This post is all about helping those who are in need find where evacuation centers are in that location.
Read Related: Malls You Can Use as Temporary Shelter If You've Been Affected by the Ulysses Typhoon
Why is it Important to List Evacuation Centers?
Evacuation centers, by definition, are locations that serve as temporary shelter for people who have been affected by disasters. More often than not, these locations are schools, municipal and barangay offices, barangay halls, and the like.
In the case of Typhoon Ulysses, it is imperative because of the never-ending flooding that transpired a few days back.
List of Evacuation Centers
Here's the list of evacuation centers in the north. We'll be giving the name of the evacuation center, plus it's location.
Read: Application for the New DOLE Camp, Now Open Online
This is to help people locate it easier and faster even if they're not familiar with it.
Annafunan Elementary School
The school is located at 103 Maharlika Highway, Tuguegarao, 3500, Cagayan. It's kind of runs across Alan St., Dario St., and Atulayan St.
It's across the Baggayan Refilling Station, a water station and is just along the road.
Read: Cash Assistance for Displaced Workers by Christmas
Centro 10 (Riverside) Barangay Hall
The Centro 10 barangay hall is a location  that you can find within Centro 10. It's not hard to find, you can ask some establishments how to get there.
It's a relatively small barangay, so you wouldn't have troubles finding it.
Gosi Norte Barangay Hall
Gosi Norte is dubbed to be an "invisible" barangay hall that is located in the Gosi Norte in Cagayan.
You can find it by following these coordinates in a digital or a virtual map that you have:
17°35'34″N   121°45'34″E
It can be found along Cagayan Valley Rd. and the Pan Philippine Highway.
Read: List of Barangays in Metro Manila, Nearby Provinces Near Earthquake Fault
St. Peter Metropolitan Cathedral Parish Gym
The St. Peter Metropolitan Cathedral Parish is part of the list of evacuation centers because it has a relatively high location.
It can be found along Gomez St. and is across the Santo Tomas Optical Clinic. Furthermore, it also sits along side the Labels Concept STore and is near
Balzain Elementary School
The Balzain East Elementary School can easily be found along the Liban St.
Read: List of Government Cash Assistance Programs For the COVID-19 Crisis
It sits along side the Five Star Technical Institute. Some of its landmarks include Tina's Eatery and the RCG Aftermarket Parts.
Tuguegarao City West High School, Pallua Norte
One of the more popular among the many locations included in the list of evacuation centers, the Tuguegarao City West High School is located along the Pallua-Buntun Highway.
It's across Jeyo's Pancitera Takeout and it a corner lot.
You will run across it easily as it's located just in the corner if you see the panciteria, running along the Highway.
Tuguegarao East Central School
Located in a mere jampacked location, the Tuguegarao East Central School can be found in Rizal St., Tuguegarao, Cagayan.
Read: Active Philippine Fault Lines and the Areas Affected
It's quite a big school; and in fact, you can use the following streets to easily find it:
Blumentritt Street
Aguinaldo Street
Rizal Street
Some of the most common landmarks you can use that are near it include Benidict's Eatery and the Holiday Plaza.
Centro 09 Barangay Hall and/or Gym
It's previously known as Poblacion, and it is inhabited by a total of 969 back in 2015.
In maps, you may find it as Centro Horno Barangay Hall and just sits near Riverbank Panciteria.
It runs along Blumentritt Street.
Read: You Can Get a Reward For Reporting Corrupt Government Officials, Get Up To P100K
Linao East Elementary School
The Linao Elementary School's address is at Lina-Carig Road, Tuguegarao Cagayan.
It runs perpendicular with Macbadbad Street. It's a big school and neighboring it is the Linao East High School building.
Larion Bajo Elementary School
Larion Bajo Elementary School is a school that can be found along the Domingo Barrera Road. Just travel along brgy. Larion Bajo and you'll be able to reach the school in no time.
Read: Load Allowance for Teachers and SHS Students, Eyed by the DepEd
It is kind of hidden as it is not associated with any street; but, if you know where and how to find it, it'll be easy.
Cagayan State University Andrews, Gym
You will be able to find it along the Caritan Highway, Tuguegarao. It sits within the Cagayan State University and is across the following establishments:
Tambayan ng Barangay
TNB Tuguegarao City; and
Western Union Cooperative Bank of Cagayan
University of Saint Louis, Gym and HS Building
Found in Mabini Street, the University of Saint Louis is an easy sight. it's an easy sight as you can also find it in Lecaros Street.
Read: "Trabaho, Negosyo, Kabuhayan" Online Job and Business Fair
You can find it alongside Jortega's Food House, Tagums Pansit Batil Patung, as well as a GMA TV-7 Tuguegarao across it.
Cagayan State University Carig, Gym
Unlike the main campus of the Cagayan State University, the Cagayan State University Carig Gym can be found in Carig area.
You can enter it in many ways as it sits in a wide plain, making it something you'll easily be able to see.
With this list of evacuation centers; you'll be able to help our countrymen who have been struck by the infamous disaster.
In addition to that, by simply sharing this post; you can save a lot of lives, especially those who are in need.
Read: 106 Billion Pesos Budget for Poor Families, Allotted by the Government
Help our people and our countrymen by simply sharing! It doesn't cost you anything!
Guidelines in Posting
Whenever you are to share this, it would be helpful to include the following tags:
#TuguegaraoNeedsHelp
#IsabelaNeedsHelp
#RescuePH
#CagayanNeedsHelp
#RescuePHTuguegerao
#RescueCagayan
Doing this will allow your posts to be seen by people who are involved or following the posts.
It's also easier for officials and for authorities to know where to find whatever they're looking for.
Read: P4.1 Billion Budget to Accelerate the National ID System
Donation Drives
The author of the post, Bryan Lesther Palcon Castro; is also a representative where donations can be sent. As per his post, you can send him donations through his GCash account at:
09353914350
In these dire times, it's already irrelevant to point out whose fault it is. When in fact, it's no one's fault. The Typhoon and/or the storm is a natural disaster and it's something that is inevitable.
Follow this post as we'll be regularly uploading information that would help out and assist our countrymen who are in need of assistance.
Read: PHIVOLCS Will Introduce 4 Disaster Reduction Apps
Hopefully, this list of evacuation centers is enough for people; they'll be able to find places where they can evacuate; they'll have the knowledge on where to go in case things are already out-of-control.
Source: Bryan Lesther Palcon Castro (Facebook)